PRENTICE HALL'S ILLUSTRATED DICTIONARY OF COMPUTING
(Second Edition)
Accurate research figures and up-to-date industry analysis were essential ingredients in the preparation of this second edition.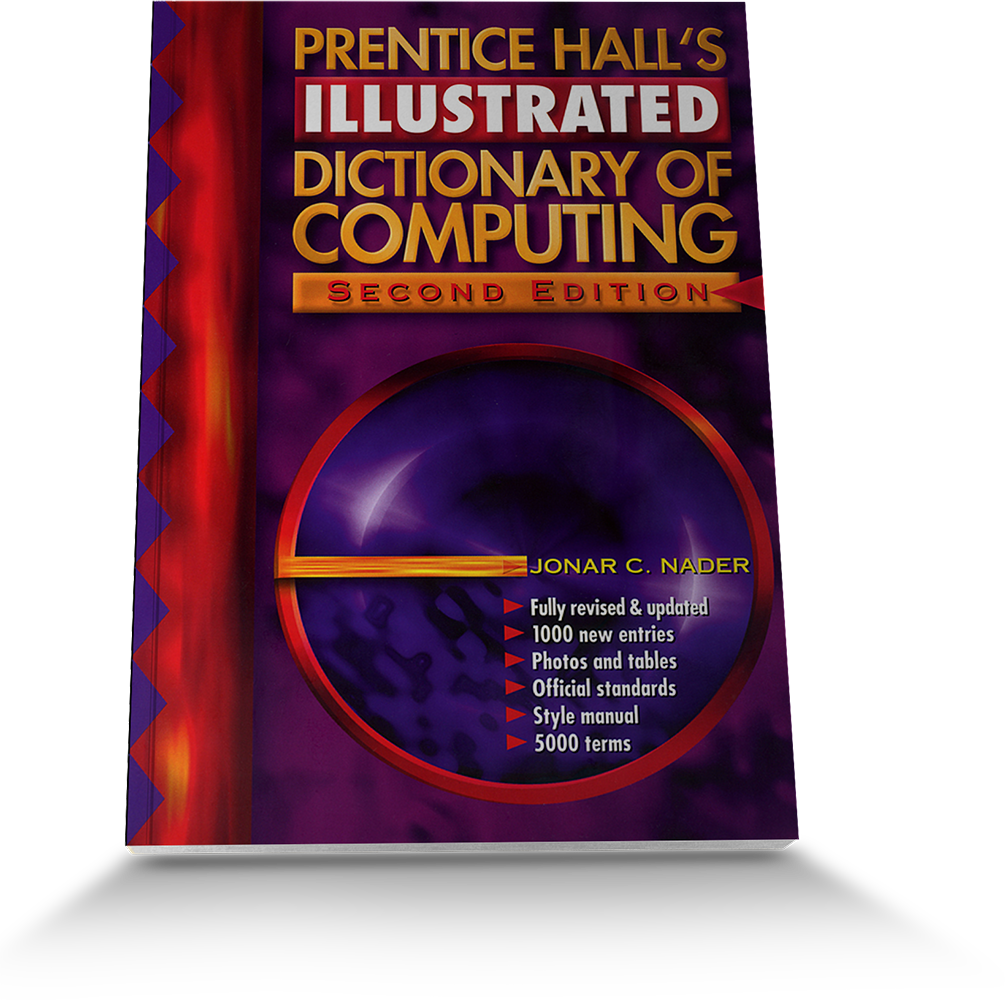 Published by Simon & Schuster
Published by Simon & Schuster
Accurate research figures and up-to-date industry analysis were essential ingredients in the preparation of this second edition.

Valuable information was afforded by the consultants and from the archives and libraries of IDC (International Data Corporation), which provided Jonar with a wealth of industry-specific intelligence gathered from the USA, Australia, and Europe.
Excerpt from the Second Edition
'The saddest thing is that to this day, visionaries still have to pay a high price for their foresight.
'Readers might expect me to support the notion that "computers have advanced the world". Instead, I suggest that computers have become the haven for inefficiency and failure; and a burden unto businesses and individuals.

'The fact that you are using this book leads me to suspect that you belong to the "immediate response" society that we have all been guilty of establishing. The error does not lie in our fine technological achievements, but in the little training and lack of standards.

'In a recent court case between two computer giants over the technical implications of the use of the term "IBM compatible", a senior judge (from the United States District Court from the Southern District of New York) determined that it is imperative for practitioners within the computer industry to take extra care when using common terms, particularly when this industry is primarily concerned with, and depends upon, accuracy. The judge concluded that it would be an anomaly for responsible organisations to exercise anything other than precision.'
The book is halfway to being an encyclopaedia, with good, readable articles. As a bonus, a useful style manual is appended to the book offering useful hints on writing. The book is essential for anyone who has to deal with computers.
Andrew Cameron, PC User
As up-to-date as a dictionary can be.
Paul Zucker, PC User
Highly recommended.
Multimedia Magazine
The accurate and current information presented will keep you up-to-date with advances in new technology.
Desktop Magazine
This book does differ from most of its competitors in a few important ways.
Adam MacEwen, PC Week
This dictionary is an excellent reference book.
Philip French, Sci-tech News
A fine resource for workers in the field.
Paul Pause, ComputerUser
Nader's style is easy and pleasant to read. His definitions are clear and as simple as they can be.
Bob Nadler, The Suburbanite
I know I have a reliable source to consult when I am unsure of a particular term, acronym or product.
Karen Hunt, PC Week
It remains the best book of its type.
Graeme Philipson, MIS Magazine
The style manual will prove to be very useful for those technical people writing the occasional reports. I feel that the book is well suited to those entering a new field in computing.
Jagoda Crawford, Nuclear Science and Technology Organisation
Jonar's dictionary is testimony o his quest for perfection.
Steven Lloyd, The Glebe and Western Weekly
This dictionary is one of the best that I have seen, and will remain one of the few books that I will have permanently on my desk.
David Ives, The Canberra Times
Test your computer literacy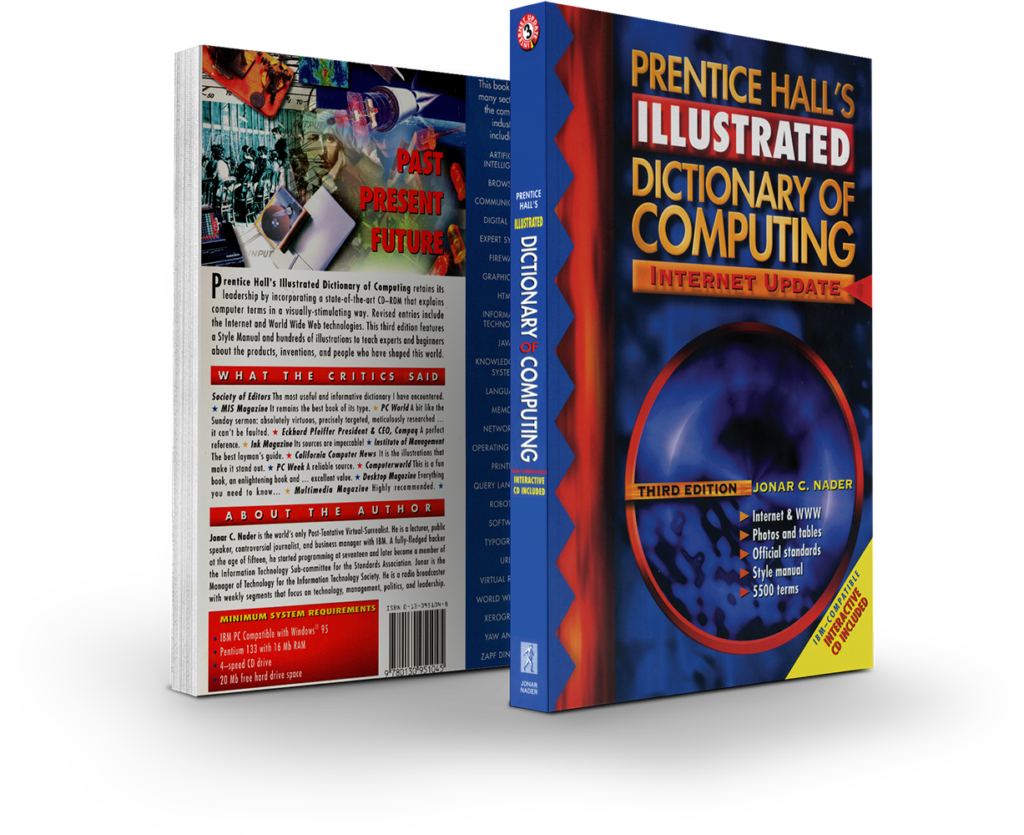 Prentice Hall's Illustrated Dictionary of Computing (Third Edition)
This book was the world's first comprehensive and most extensive dictionary on the market. It was also the first to incorporate international standards, and to include a style manual (for improved communication) and market data from IDC.
Published by Pearson Education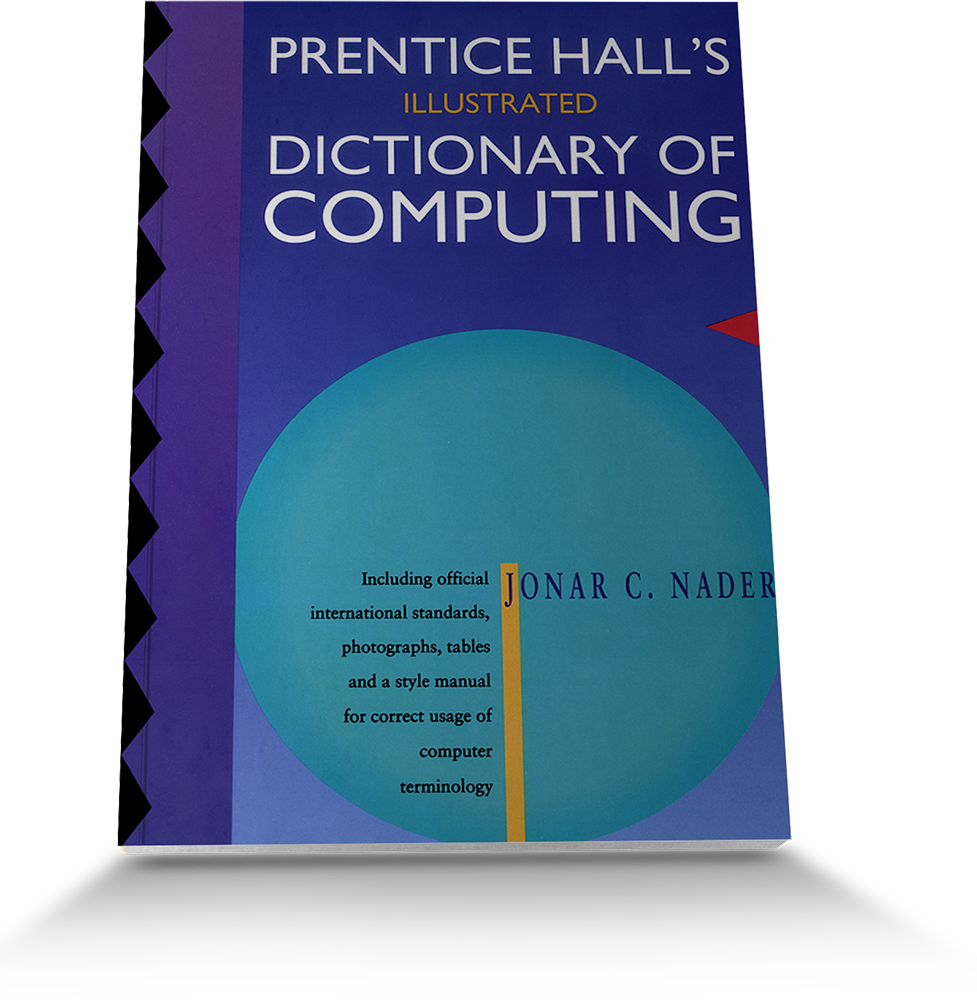 Prentice Hall's Illustrated Dictionary of Computing (First Edition)
This was the first edition that started the successful series. It contains quotable quotes and fascinating industry insight. It looks at the people, the products, and the companies that made the industry what it is today.
Published by Paramount Communications