The Hyatt Regency Coolum leaves a lot to be desired. I stayed there undercover, meaning that I did not provide my real name. I rarely do. It helps to see people for what they are when they do not know that someone is a celebrity or a VIP. Not that I am either, but I am treated as such when people know my real identity. I am most uncomfortable with that. So I rarely provide my real name, if I can get away with it (sometimes my clients make the booking on my behalf, such as when I am speaking at a conference, and my name and photo are published, so I try not to confuse the issue in those circumstances). On this occasion, and until this point in time, the hotel had not known that it was I who had corresponded with them.
The purpose of this article is to highlight the need for managers to delegate. I often say that every senior manager must delegate anything that is possible to delegate, so that they can leave their office and inspect their organisation, with a view to ensuring that the whole establishment can deliver on the promises that are made on behalf of the brand. Whether it's a hospital or a university or a hotel, senior managers need to monitor and train and cajole and fight and argue and encourage and demand and protest and coach and lead. Unfortunately, the business of management is like a weed. It overgrows everything and becomes a job all its own, to the point where the manager is so smothered, that the primary objectives of management are pushed down the priority scale. This is similar to how some youth listen to music in their car. They pump base to such a degree, that the base becomes an instrument, which in-turn becomes the music. Why else (apart from showing-off and seeking attention) would a rev-head youth play head-banger music using an expensive sound system whose subs are so large, they take up the entire boot-space? The noise becomes the predominant aspect, and the music seems incidental to the thumps and vibrations. So it is in management, where the paperwork and the endless requests by head-office, consume a manager's attention. This results in inattention; ignoring, by force and distraction, the central aspects of the business. A hotel is all about the guests, and when no-one is conducting the whole show, who notices it most?
Here are my observations, as sent to the Hyatt Regency Coolum hotel on the Sunshine Coast of Australia. The email said:
…my experiences can be itemised in two parts. This letters relates to Part One. I would consider sharing Part Two with you, after I have evaluated the merits of doing so, and if there is interest on your part.
BACKGROUND
There are people who work eight-hours per day. Some work twelve hours every day. My minimum workload is eighteen-hours per day. In fact, this email comes to you at 3:35 am on Tuesday morning. In April, I had such tight deadlines, that I had to work 54 hours non-stop, then a short sleep of less than three hours, and another 42 hours non-stop, then three hours of sleep, plus another 50 hours non-stop. I knew this to be unwise, so I booked into the Hyatt Regency Coolum to take a break before a very important meeting for which I needed to be alert.
In view of this heavy workload, you will appreciate why I noted in my Wotif.com booking that I would appreciate 'A location that is quiet in the mornings'.
I understand that such requests cannot be guaranteed. However, I would expect that someone would at least have tried, or looked at the request and advised me of the outcome. Unfortunately, I was placed in room 307, which is the first room after the Village Square, and next to the games room, and the family pool. No location could have been noisier, made more vibrant by the school holiday-makers, and what I later learned was an almost full house.
SPIDERS AND COCKROACHES
Upon check-in, I ticked the box that asked the operator to 'not acknowledge my presence'. I wanted to avoid phone calls and disruptions. As you can imagine, my body-clock was out, so that night, I placed the 'Do not disturb' sign on the door, hoping to escape the world.
My first night was most uncomfortable. There were many reasons for this, on which I will not comment at this stage. Having travelled the world and stayed at the grandest of hotels, I believe that most hotels miss the mark when it comes to comfort. However, this is not the purpose of this letter, so I shall not make any comments about your hotel's general layout and operation at this stage.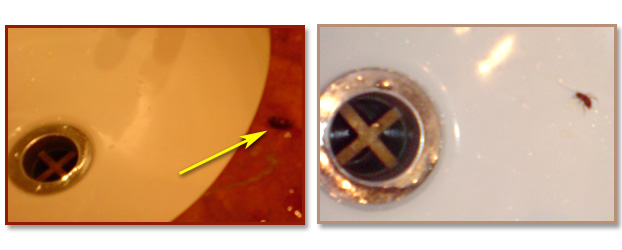 Notwithstanding, I feel that you should know the primary reason for my lack of sleep. It was the cockroaches that had infested my room and bathroom. There were ten of them on the bathroom floor, and ten or so around the wash basin. I killed what I could, using the soap container. And more emerged later, endlessly.
I felt and saw spiders crawling on me, and this horrible feeling played on my mind, whereby the slightest touch or itch made me jump. I got out of bed and worked at the desk, only to notice a spider crawling up my leg, because I later found that the bottom part of the desk was a good place for a spider to spin its web.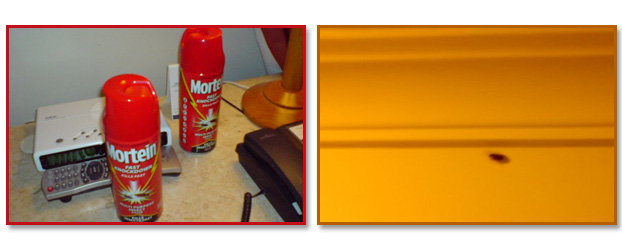 To the left of the desk (on the floor and window bay) there were other types of insects, which means that your housekeeping staff could not have ever vacuumed that area. It was evident that housekeeping did not bother to run the vacuum cleaner along the corners.
By 3:00 am, I could see no end to the insects, including ants, so I called the front desk and had a can of inspect spray delivered.
I understand that the resort enjoys a lush natural bush environment. In fact, I live in a similar environment in Sydney, yet my home is spotless. It is possible to control pests better than this, even though I know that some guests might leave crumbs and the like. However, this is why housekeeping and maintenance are employed. I sprayed as much as I could, and endured the horrible smell from the can (not wanting to open a window for fear of more insects). The staff member told me that it is the spray-can that he keeps by the front desk. If insects are a natural part of resort life, why is this fact never mentioned in your literature? And why are cans of inspect spray not provided in every room?
That night, I went to bed without brushing my teeth, not wanting to touch the toothbrush, wondering how many insects had crawled over it. I cannot remember the last time I did not brush my teeth. That was an uncomfortable situation.
As for the insect repellent/gel satchels; I found those on the third day, by accident, in one of the drawers. Considering that all the drawers were empty, why would a guest be expected to look for something that is not known to be available? These satchels should be placed on the desk.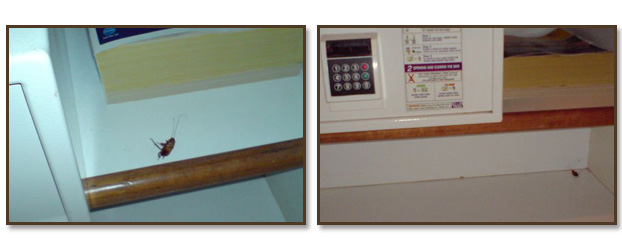 Later, in the stillness of the night, I heard a rustle in the wardrobe. I dreaded the thought of my clothes becoming infested. So up out of bed again, and I found a cockroach crawling up my jacket. I sprayed it, and it fell next to the safe. I left it there, expecting housekeeping to deal with it.
After vacating the room later that morning, I returned to find that the cockroach had gone. Only later, when accessing the safe, did I realise that the cockroach had been pushed to the bottom shelf and pushed back to the corner. So I brought it forward and waited to see if the cleaner would attend to it the next day. Alas not. It remained there the entire time.
By the time I had checked out, I had gone through two cans of Mortien, having run out of the first, and receiving the second can at 2:00 am the second night after another horrible itchy experience amidst even more insects. I mentioned the insects to one of the housekeeping staff. Nothing was done. The cockroach by the safe remained! The cleaning staff the next day did nothing about it. So now we have the front desk lady, the housekeeping lady, the two gentlemen who brought me the cans in the early hours: that's four people who knew that something was not right. Did anyone ring any alarm bells? Who cares, I wonder?
I know of people who have an unbelievable and hysterical reaction to spiders and insects. I wonder how they would cope in a room like Room 307. It is a sight to behold, watching someone who is genuinely arachnophobic. I have such a person in my family. Their fits of hysterics are unfathomable. I kept thinking how lucky it was that they did not travel with me.
DO NOT DISTURB
After that horrible first night, I managed to get to sleep at around 8:00 am. At 9:25 am, the doorbell rang. I called out, but no-one answered, so I went to the door in time to see the small buggy driving off. Outside my door were two totes, containing the fresh linen. I had the 'Do not disturb' sign hanging outside, so why did housekeeping deliver the linen and press the doorbell?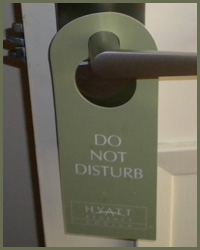 This type of thing happens all around the world. So I became agitated and could not rest. I took a photo of the sign, and I then removed the sign and placed it inside for a very good reason. As a world traveller, I have often jumped out of bed to protest about the disturbance, only to be told that there was no sign, or to see that housekeeping had sneakily turned the sign around to the 'Make up my room' side, to plead innocence. Such staff think that they are clever, except that people like me place that sign there with serious intent. So fearing that after I called the duty manager to complain, someone would come back and steal the sign or turn it around, I took a photo and retrieved it, just to prove my sanity, because it becomes futile to argue with a manager who will insist that the sign was incorrectly placed, or was never placed, or was pinched in the night by unruly guests.
So after my heavy deadlines of working three-days-and-nights in a row, three times over, and after another restless night chasing spiders and cockroaches and the smell of Mortein, not to mention the band in the Village singing the nauseating 'Ce-le-brate Good Times, Come On!' and the joviality and frivolity of young and old running around, and my utter exhaustion, I managed to sleep for one hour and 25 minutes until the doorbell rang.
[audio:Celebrate_good_times_Coolum_Village.mp3]
Why oh why would a resort that boasts about tranquillity, hire staff who do not understand the basics of the leisure industry?
If a tree had fallen through the window, or if flooding had necessitated an evacuation, one would put it down to Mother Nature. If a gas bottle had exploded or if a buggy had ploughed through the door, one could understand human nature, and accept that unfortunate mistakes and errors do happen. However, a staff member ringing the doorbell, knowing that the guest was checked-in for three days, and knowing that there is no major function or conference to which one would need to rush, what can it be other than complete and utter disrespect? This was not an oversight. It was not an error. It was not an accident. It was not an inadvertent slip-up. This was not lack of training. It was nothing more than pre-meditated disrespect of the highest order, born of a management structure that boasts about world-class facilities, yet allows staff to break the codes of conduct and therefore destroy the Hyatt brand that hangs its hat on its understanding of the customer. I recall staying at another Hyatt property and watching a long promotional in-room video wherein senior and junior Hyatt staff spoke about the customer as being the most important aspect of the business. I did not believe it then, and I do not believe it now.
Sure, I know that not all staff members buy into a company's ethos. Yet, who's to blame? The managers who allow this type of person to hang on to their job! Any person who shows a blatant disregard to hotel guests must also exhibit this level of disdain within other aspects of the business. This means that the colleagues and managers are blind, or they are all of the same ilk, to allow this type of behaviour to continue.
At 9:30 am, after taking the photo and being so agitated that I could not possibly rest, I called the front desk and complained. I received a nice apology. I was polite and I left it at that. What good is an apology? Hotels were born because humans need to sleep. One day, with bio-tech and nano-tech, we will have pills that would enable us to skip sleeping. What will become of hotels? I arrived at your hotel after three days of no sleep (having done this shift three times in ten days). Unbelievable, I know. And after flights and transfers and an insect hunt, I managed just one hour and twenty minutes. When I mentioned the insects in my room, the front-desk staff member (duty manager) offered to move me to another room. I declined, simply because I could not be sure that any other room was any better, and I was run-down and did not have the energy to re-pack.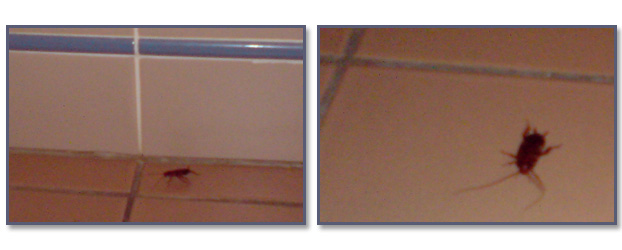 During the three days at your resort, I did not take a shower in my room. I did not touch the amenities. I went to the spa to use the toilet and shower facilities. I did not touch a towel for fear of squashing an insect to my face. I did not use my room. I really just wanted to hibernate in my room. Instead, I sat outside the spa, moving the chair around to catch what little sun the walls allowed. Your caretaker / spa-attendant will no doubt recall this lonely guy sitting there, jotting notes. One guest thought there was something wrong with me. I just wanted to be alone, and preferably in my room, but I lived on the lawn for three days. On the odd occasion, I went to the pool, but I did not want to hear people chatting. I wanted quiet! I would have loved to have stayed in my room to enjoy room service etc. No such luck.
Now that I had a taste of such bad hospitality, I was on high alert, and so I started taking notes. Here are some of the many…
SECURITY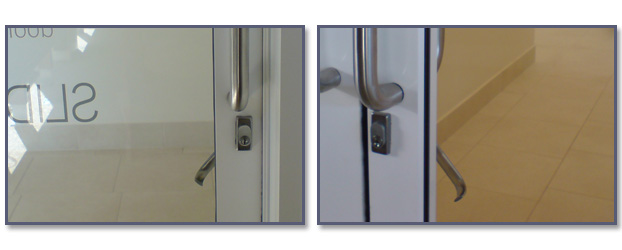 There are certain standards required by the building codes, which affect fire escapes and safety. There were many anomalies. By way of example, the doors leading from the spa reception to the men's change room, do not comply with regulations. The first door can be locked from the outside, yet the second door can be locked from the inside, and this means that it is technically possible, albeit improbable (but we live in strange times) for a guest to be caged in, unable to escape. This is a safety risk. Photos are attached, showing the handles, along with a video.
I began taking notes about security (and I have a long list for another time!) after the receptionist at the spa asked for my room key, to verify that I was entitled to use the facility, and to provide me with a locker key. Indeed, I was given a locker key, but the receptionist kept my card. I told her that I was uncomfortable with that.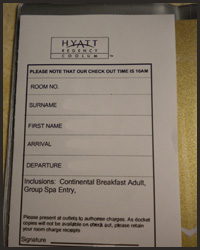 I know that the Innkeepers Act limits a hotel's liability, but do you think that your hotel would be cleared of any wrongdoing where bad policies are in place? Here is why: as you know, hotels moved away from the old-fashioned locks and keys, for many good reasons. The new swipe-cards offered great advantages, including the ability to keep cards totally unmarked so that if a card is found by a stranger, no-one could guess the door it opens. However, upon check-in, your guests are given a green plastic pouch/wallet, which contains a piece of paper on which is the guest's name, room number, check-out date, and signature. That is a huge security risk. Anyone who drops their wallet is providing way too much information to a would-be thief who could access the room. I would suggest that a good lawyer acting for an aggrieved guest, could argue that the hotel was negligent.
With safety and security top of mind, I asked the lady to return my card. She took umbrage at that suggestion. She said that no-one else had complained, and that the cards had never gone missing from behind the counter. I explained that I had vital information in my room, including computer equipment and a host of expensive personal effects, as well as corporate material, and that I did not think it safe nor wise of me to surrender my wallet that made it all too easy for someone to ransack my room. Most establishments baulk at the idea of safety and security, until something untoward happens to them, and then they promise a full inquiry. Any defence lawyer would argue that I was equally negligent to surrender my room key. So after a small unpleasant encounter, I allowed her to keep the key and the wallet, but I removed the slip of paper that contained my room number, name, and signature. Why am I the first one to spot this oversight? Why all this unpleasant opposition? Why must I make my presence felt, when I went to the spa to relax and to unwind (and to have a shower because I did not want to set foot in the shower that had insects lurking, even though I killed a few of them like a mug).
By the way, how can this spa speak of relaxation when within a stone's throw over the fence was a red helicopter that was buzzing away in what I presume was a joy-flight. It would accelerate up and swoop down in a manner that makes me believe that the pilot was trying to scare the passengers. The chopper was loud and menacing and it disturbed all the people lazing by the pool. Apart from the noise and smell of fuel, I was extremely concerned for my safety. How can that chopper be granted a licence to perform such acrobatics within a few metres of innocent people by the pool? In my assessment, any accident (which is highly probable considering the way that pilot was performing like a dare devil) would have endangered innocent bystanders at the pool. I was sitting there when the joy flight was taking place, and I decided to move away. I am safety-conscious, and both technically-minded and mechanically-minded enough to know that an accident would be devastating. Are you sure that someone has appropriate clearance to fly in that way, in that area? Something is not right. Does your insurance company know about this? Where's the bliss?
[audio:Coolum_Spa_Deborah_Hutton_promising_peaceful_environment_Jonar_Nader.mp3]
CARE FOR THE ENVIRONMENT
There was a sign in the spa that asked guests to care for the environment by conserving water and energy. Yet, during the three days that I was there, I noticed that the external lights that line the perimeter of the garden outside the spa, were on well past 1:00 pm. On one occasion, the lights were on until 4:00 pm in the afternoon. I was there during excellent weather when the sun was shining brightly.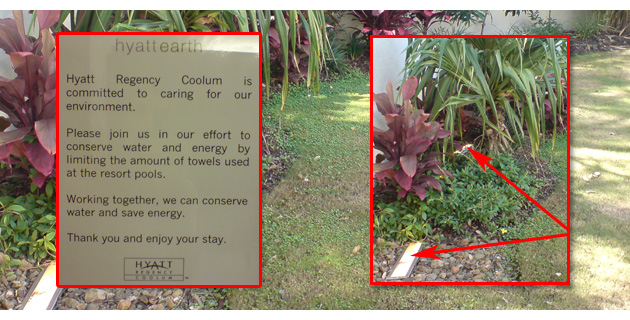 BLISS AND SERENITY
The five million dollar upgrade to the spa was interesting. There were many things about it that did not make sense. I took many photos. The one aspect that I will mention now is this: imagine what you would do if one of your guests sat in the spa area, holding his leather shoes, and slapping them together every 30 or 60 seconds. The loud sound would echo and disturb the guests. Many would complain, and I can imagine that such a scenario, posed to your security officers and to your duty managers, would result in an executive-decision to ask the guest to either stop or leave the premises. Anyone making such a disturbing sound in a quiet relaxation-area would be thrown out. Pray tell, how can a five million dollar upgrade not include a door to the men's sauna that does not slam? Imagine having ten or twenty guests using your facilities. Each going in and out of the sauna three times during their visit. That means 20 x 3 = 60. So we can expect that at best, we hear the door slam every minute. You can test this by going to the sauna and opening the door, and just letting it go, and listening to the slamming. I have attached a video, which I took with my low-quality camera-phone. The sound is not synchronised, but it illustrates this. Given that your $5,000,000 upgrade was completed around six months ago, I do not understand how such a facility can allow this type of thing to happen.
[Here is the audio from the video. The first slam is followed by two repeat slams as the door bounced back against itself from the force of the hinges which needed no help to close. The door is simply released. The original sound is much louder. Noise-cancellation technology on my computer has muffled the booming echo that guests must endure.]
[audio:Coolum_Sauna_Door_Slam_Jonar_Nader.mp3]
Please note that I am not really complaining about the door. I am illustrating the culture. How can staff not notice the lights on, or the noise, or a range of many other things (dozens) that I noticed? It says to me that they do not care. And it is none of my business, except that your brochures lead me to presume that your resort is of a certain standard that, clearly, your staff is unable to meet. This, therefore, borders on false advertising. The brochure says that the Spa 'evokes total relaxation and well-being…'
HEALTHY FOOD
I specifically asked the two ladies in the T'Go takeaway shop if the sandwiches contained onion. The sign had said 'salad'. It did not specify the ingredients. I explained that I could not eat onions (allergy) and both staff members were confident that the sandwiches did not contain onions.
I went to sit in the sun, and I found out, the hard way, that in fact the sandwiches did contain onions. So I returned them. It spoilt my lunch. I drank the water and went for a walk, with a bad taste in my mouth. No lunch for me.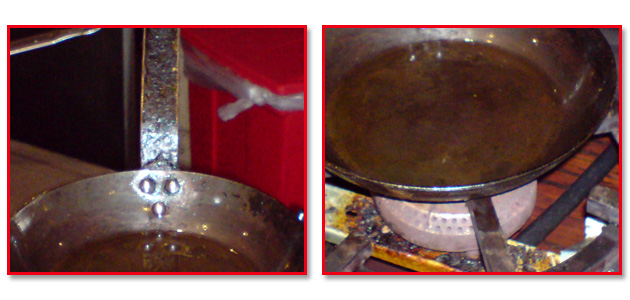 The next morning (after that doorbell incident) I decided to have a healthy breakfast at Bruschetta's, and asked for an omelette. The lady-cook was standing behind the counter, and there were no other diners keen on utilising this service, despite the restaurant being full. So I approached and noticed that the fry pan contained what seemed like 4 mm of oil. No less than 3 mm. I needed a healthy meal. I had binged on chocolate bars, after months of resisting that temptation. The lady said that she cannot remove the oil lest the eggs stick to the pan. I smiled, and walked away, and that was the end of that. Again, this is none of my business, but it was bemusing that the pan was like a pan one would expect to see on the streets of a dirty third-world country. The attached photo shows you how unappealing it is. How can a Hyatt resort like yours, that attracts Royalty and Heads of State and celebrities, spend five million to upgrade a spa, and untold millions on the property, cater using such ghastly utensils?
The continental breakfast was almost appealing, except that the fruit flies spoilt any desire for fruit. The hazards of a bush environment: or perhaps bad kitchen hygiene.
Again, you are entitled to serve it up any which way you like. It's just that your in-room compendium contained a letter from the Executive Chef, Mr Thomas Angerer, who says, 'My mission is to provide you with great food and memorable dining experiences while you are our guest… and all chefs are charged with catering to the individual tastes of our diners. Most dietary requests can be accommodated…'
In this day and age, asking for an egg to be cooked without lashings of oil is not a tall order. A staff member who can refuse a basic request, and who allows a guest to walk away, is failing to deliver on this mission. It wasn't as if Basil Fawlty had asked for an elephant's ear marinated in suitcase sauce on a sesame seed bun. It was just an egg.
One night I was out for a long walk, and I did not realise the operating hours of the Pizzeria. I noticed that the sliding doors were half-shut. I said to the main staff member/chef, 'Oh, are you closing?' and he said 'Yes, it's all packed up'. As you know, often it is how something is said, as opposed to what is said. I took that tone to mean, 'Go away, tough luck, too bad, good bye'.
So I said, 'Well, can I just grab an ice cream?' And he said, 'No. The cash registers are closed now'. Is there no other way to handle this? Is the staff member so exhausted and so fed up that he could not find a way to either take cash, charge it the next day, take an IOU, or even give a guest an ice cream and keep the peace? A $3.00 item might cost the resort around $2.00. Is it too much to find a way to either charge the room the next day or even give the jolly thing away, considering that a disgruntled guest could easily waste more than $2.00 worth of products at breakfast or at any of the facilities? Or, was the Pizzeria not part of the resort, and therefore unable to think of terms of brand control or guest satisfaction? In which case, one would think that in this climate, one cannot afford to lose a sale — especially such a simple sale that takes two seconds to fulfil. I would not be waxing about this so much if it were not for the fact that, three minutes later, while standing around in the Village Square, I saw a guest approach the Pizzeria, just like I had. The doors were still half-shut. I noticed that the guest walked away with at least three ice creams. I pulled out my camera phone, but sadly the bad light and the distance meant that I could not capture the proof for you. Why could that guest purchase ice creams, while I was refused? Was it a different staff member? If so, was it a case of a staff member being too weak to enact the policies and to refuse a sale, or was it an excellent initiative to satisfy a customer? If so, what authority does that second staff member have over the first who refused me? Such variances in standard point to other frailties within the culture.
NUDITY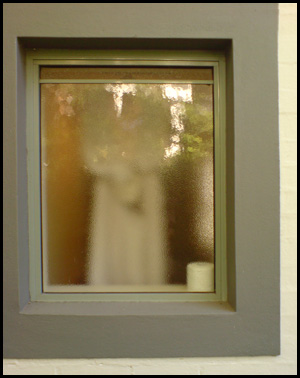 Room 307 is the first in that line of rooms. It is therefore one of the rooms that would see a lot of traffic. Dozens of people would walk past the window of the room's toilet and bathroom. The frosted glass windows do not have any form of cover. No curtains. No modesty screens. When the room lights are on, a person walking past can see everything. How embarrassing it must be for people using the toilet or the bath etc, or even stepping out of the shower, or men standing by the toilet facing out to a darkened world outside, when in fact, everything is perfectly visible. I hung a white bathrobe on a hanger and hooked it to the ceiling just so that I could take a photo for you. The attached photo clearly shows how a white bathrobe can be seen, using a low-grade camera (my camera is very bad). Imagine a human standing behind that glass, with body shapes and tones. How on earth can that situation be permitted? With the darkness outside, a guest has no idea who is walking past and glancing in. It won't be long before some celebrity sues when their photos or videos end up on YouTube or in a trashy magazine that would pay handsomely for all sorts of compromising photos. This photo was taken during the day. Imagine the effect at night when the inside is lit up, using a good camera, which most people have on their phone, and whose contents can be blogged or sent to CNN within ten seconds!
What is even worse than this is the air vent at the top of these windows. Anyone standing at street level can look right through the air vents and see right through to the bed! Someone on the bed, while the door to the bathroom is open, can be seen by anyone walking past. Add a zoom lens to the equation, and we have the Full Monty, and the guest has no idea who is outside. The one saving grace is that the air vents are so filthy and clogged up, that one is afforded a modicum of privacy, but a steady hand on that camera will still do the trick. How embarrassing. No doubt the insects love these openings.
CONCLUSION
I have just touched on a few aspects. There are several more to go, reserved for Part Two, should you be interested. It all depends on how you respond to Part One, keeping in mind that I am not demanding a response. It is purely up to you. I do not need to be appeased. I am not trying to vent my frustration. It just seems to me that your establishment projects a world-class image, yet it is completely sub-standard in many aspects. I feel sorry that I have to use this type of tone to express my experiences.
Naturally, there are many areas where your resort deserves praise. And I understand how difficult it can be for you to be completely across the whole property. As a traveller who stays in dozens of hotels each year, I have seen some terrible things. It still amazes me that most hotels have no idea how to construct an environment for the guests. If you think that my observations above were of value, keep in mind that I have many other observations that I think need attention, but I am not going to tell the Hyatt how to run its business. I am merely outlining why my experience was shocking and why it is not fair to lure me and my money and not deliver on the basics!
My camera phone is low quality, so the attached photos are unclear. However, they should give some idea of what I noticed. I made the photos smaller so as to reduce the size of this file. If you like, I can send you the larger versions, where each photo is just under one megabyte.
I wish you every success.
Yours sincerely
P.S. I used to stay at a 5-star hotel in Melbourne, and for years, it was as bad/good as any other. Then one day I walked in and the air was charged. The atmosphere was different. The tone was new. Nothing had changed in physical terms. No new carpets and no new paint. No new uniforms. But something huge was present, every which way I turned. It was intangible and evident and strong and vibrant. I wanted to figure it out. The penny dropped. I thought to myself, there must be a new General Manager. I phoned the operator and asked to be put through to the GM's office. 'Hello… etc, how long have you been GM?' I asked. He had been there only two months. He asked me why I was calling. He was fearful that I was about to complain about something. I said, 'I would really like to meet you for two minutes. I have stayed at your hotel over a period of five years, and this week, I am amazed by the evident and unmistakable energy, excellence, and intelligence around me.'
 I had to meet the GM who could do this. Wow. 
It is so easy, yet so hard, yet so jolly easy.
UPDATE
After sending the email, I received this response:
'Thank you for your comments on your recent stay. I will not bother you by going into detail on each item. Allow me to simply apologise for your lack of peace and quiet, and general enjoyment. We can do better! All I ask is that you consider returning as our guest for two nights and I am sure we will restore your confidence in our organisation. Please consider this offer and advise me of your thoughts. The offer includes a complimentary room and breakfast.'
I declined the offer. The hotel sent a partial refund of $360, which I cashed six months later when I found a worthy cause for a donation of services and material to a registered charity.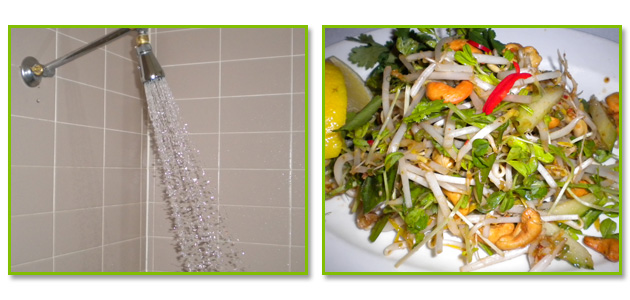 The Hyatt never asked me for Part 2 of my observations. There were many other issues which I will publish shortly. I did happen to stay at the hotel once again a few weeks ago due to a client conference, and nothing had changed, except that there were no cockroaches in my room, so I enjoyed a shower, which had one of the best water pressures of any hotel. On another positive note, there is a modest restaurant in the Village Square called Noodles. The chefs make this Thai salad that is out of this world. The spices, chilli, and lime/lemon combine to activate every gland in the mouth. This dish was so delicious, that I ordered two, and treated my taste-buds to an explosion that at times was eye-watering and, even more so, mouth watering, literally, because it spikes every saliva gland in the mouth. If you are on the Sunshine Coast, a detour to Noodles is worthwhile, just to experience this dish. I would certainly do it if I were in the area. Also highly rated by me is the dessert selection at Bruschetta Restaurant. I can always tell a good flan by its short-bread style base.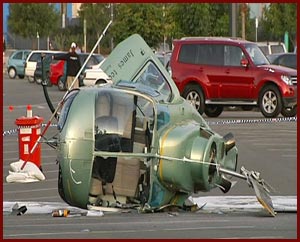 Incidentally, those who think that I worry too much, might do well to remember that a few weeks prior, a helicopter crashed on the Gold Coast at Dreamworld, during a joy ride. The news made it all around the world. Even the 'Turkish Weekly' picked up the story.