Corporations of all shapes and sizes can learn from the ways in which casinos lure and retain their clients. Casinos make generous offers. But more importantly, they make it easy to do business with them. For example, consider Conrad Treasury in Brisbane, Australia. They encourage patrons to join, by giving patron instant rewards. And there is no joining fee. Clients benefit from discounts, exclusive promotions, and free products and services. When was the last time you were treated this well?
The brochure says:
'You can qualify for free parking when you play table games, gaming machines or dine at any Conrad Treasury restaurant… You can qualify for a rebate when you use public transport to visit Conrad Treasury and play table games or gaming machines… Help yourself to up to two drinks a day from our Refreshment Centres when you earn 20 bonus cents within a three month period.'
The brochure notes that Silver members receive six drinks per day, while Gold members enjoy eight drinks per day in the special Gold Suite lounge. Members can earn table complimentaries. Floor managers can hand out special gifts that include free breakfast, or vouchers which can be used for food, drinks, merchandise, parking, or accommodation. Members can earn bonus dollars when they play gaming machines, and these can be redeemed for cash. Special promotions and tournaments offer exclusive cash and prizes.
There are members-only discounts at restaurants, plus $6 member meals. Not to mention savings on accommodation, plus a range of other offers, vouchers, free meals, and goodness knows what else if you reach Platinum Status!
Here's something from which every company can learn: Conrad says, 'When you have agreed to the terms and conditions by signing overleaf you will be issued with your Casino Rewards card on the spot!' Isn't that brilliant. Free, fast, easy, and on the spot. And you earn rewards straight away. Rewards that are useful and attractive.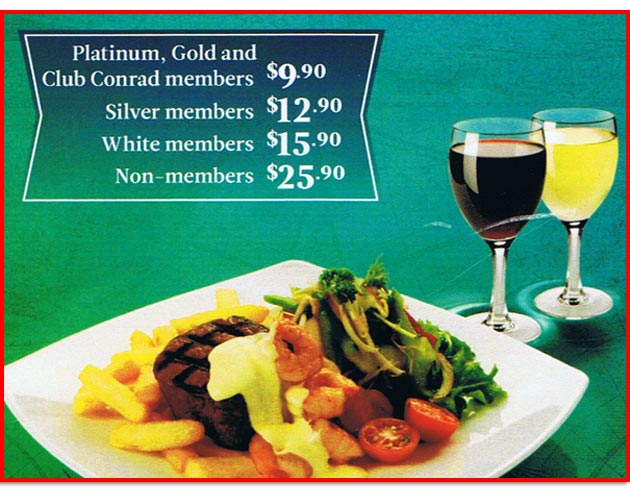 My friend and I (we attended purely for research purposes) had a meal at Cafe21. The food was excellent, and well presented. The bill came to over $100. Had we have been members, I guess the meal would have been free, or a quarter the price. This is an example of the saving. A Reef & Beef Fillet Steak, topped with garlic prawns, chips and salad, with a glass of house wine retails at $25.90 for non-members, yet is only $9.90 for Platinum, Gold, and Club Conrad members.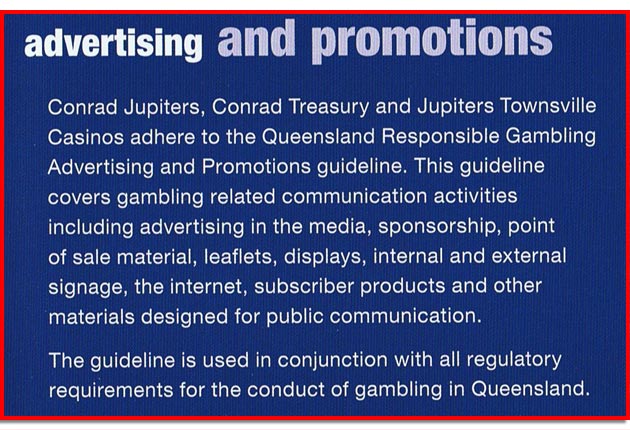 The logic of the promotions is brilliant. Yet I wondered how that related to the company's advertising and promotions guidelines that are part of the Queensland Responsible Gambling Advertising and Promotions guidelines.
Why were the guidelines introduced? A week earlier, I met a man at Jupiters Townsville who had lost everything to gambling. It was his stupid fault. One cannot blame the casino. Yet, why does the casino speak about responsible gambling? As a marketing enterprise, the casino scores full marks. As an allegedly responsible venue, I am not sure that it is doing the right thing. Sending out free meal vouchers has only one purpose: to bring the poor stupid sod back into the lure of the sights and sounds of the casino complex, and we know what that's designed to do. In the words of the casino, 'There is nothing like the sound of the gaming machine floor in action. With an energetic crowd and electric atmosphere this is the heart of the casino.'
For these reasons, I would suggest that if Conrad is indeed following the guidelines, then whoever drafted the advertising and promotions guidelines did not know what they were doing. Lip-service all over again. What a waste of effort. If you are trying to solve a problem, then solve it. If you are trying to spin stories, then shame on you all. One of the guidelines says that staff will not pressure gamblers who have indicated that they wish to stop playing. But there is nothing in the guidelines to suggest that the client will be sent home in a taxi. And nothing to stop the pit manager from giving that gambler a free meal and a free room at the hotel.
I love the line that said that a gambler who wins a large amount can ask for the money to be presented in the form of a cheque. This, devised as some charitable act to help the gamble to cool off, is supposedly good for the gambler. The cheque would have to be taken to a bank, and this takes the temptation away from the gambler injecting the winnings all over again during an early morning gambling frenzy. Alas, the cheque would only be issued if it is asked for. I do not know any problem-gambler (and I know enough for multiple PhD theses) who would voluntarily ask for a cheque. Play-on is the mantra of troubled problem-gamblers who lose their head and bet over it.
And one more thing: If a casino really really really wanted to be responsible, it would never allow anyone on the floor who has the tiniest drop of alcohol in their blood. Alcohol clouds judgement. If you really want to be responsible, then the casino ought to be alcohol-free, with breathalysers at each entry point.
Then again, casinos are doing a great job. It's the mugs who are to blame, along with a society that now glorifies gambling with TV poker games that are disgraceful and an indictment upon any TV network. Not to mention the socially corrupt concept of Celebrity TV poker championships. Ok, people can do what they want. Fine. But don't spin the 'responsible' casino rubbish.