I was on a flight when I saw Beyonce's video clip for her song 'Single Ladies'. I did not have my headset on, so I watched the clip without audio, and it seemed like a mesmerising dance. This gave me an idea: why not assess video clips on their merits, without audio. It gives the clip a whole new feel, so that it can stand on its own, as a work of art, rather than be swept up by a great song (or disadvantaged by a bad song).
I am in two minds about whether this clip should win the trophy for 'best clip' for being so mesmerising, or if it should win the 'worst clip' for being so dodgy.
Here is what it looked like to me from my seat.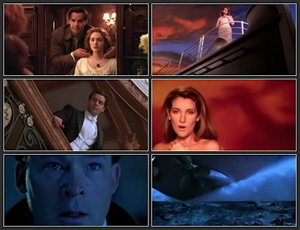 Oh, and here's another idea. When I was 'in the moment' watching the grand film 'Titanic' for the first time, I thoroughly enjoyed the song, 'My heart will go on'. It was a sweet song, beautifully sung. And then some weeks later I saw a video clip of Celine Dion singing it, and I was thrown overboard. Her delivery of that to camera ruined a good song for me, and now I can never hear that song again and enjoy it.
This experience gave me an idea that all new songs ought to be launched without anyone knowing the name of the artist, and without a video clip. In this way, people can judge each song on its merits. You see, I know young people who refuse to listen to a song if they knew that it is sung by someone whose hairstyle they dislike, or whose mannerisms drive them to distraction. Yet, strangely enough, if a new hip artist revives an old classic, they lap it up, not realising that it is an old song. Whereas if you sat them down and went through your old collection with them, they would shake their head at each one. They only listen to modern songs, and only by people they like. That's hardly the way music should be judged. Alas, we do judge books by their cover, and by their author, and by the hype. Similarly, we do judge songs by factors other than just the rhythm.