I do a lot of flying, and I always request a window seat (I do wish that the windows were larger, and cleaner, but that's another story). Every time I fly into a city, I try to seek out different land marks. One day, I spotted the Michel's Patisserie logo, painted on the roof of a factory.
I telephoned their head office, but no-one knew about this building. I was uncertain about its location. After a lot of searching, we were unable to work it out. Then a few months later, a Julie contacted me from the franchise office and said that she might have cracked it. It was the address of the old factory, which is no longer in use.
The bakery dates back to 1988 when Noel Carroll and Noel Roberts founded the company. I would guess that this was their idea. And a clever one at that. Imagine how many people get to see that logo on approach to Sydney airport.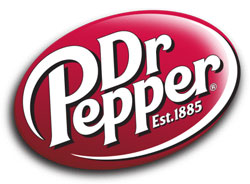 Recently, I spotted a roof sporting the Dr Pepper soft drink logo. It was on approach to Sydney airport, if my memory serves me. If you have information about that, I would like to take a look at it using Google Maps. I am not sure in which suburb it would have been.