When I created my YouTube page, and this Blog site, I disabled the comments section. Indeed, anyone can reach me and many do write to me. However, as far as my sites are concerned, you will note that I do not post comments from readers because I do not want others to hijack my site for their banter.
Many criticised me and said that I was out of touch. Much like many laughed when I remove all friends from my FaceBook account. I have NO friends on Face Book. I welcome people to contact me and to stay in touch, but not via silly chit chat and brainless comments on the likes of YouTube or FaceBook.
Well, I wondered how long it would take. I knew it would happen. Allowing comments is going to be a thing of the past. Here is an example of Britain's Got Talent's You Tube site that has disabled the comments section. Hooray. Most comments start with, 'Well done, nice act', and soon end up with, 'You ugly Arabs know nothing. Susan Boyle is ugly like you and I will smash your face in'. If you do not believe me, trawl through the hundreds of thousands of comments on the Susan Boyle pages that have attracted over 100 million views.
Take a look at the last line on the screen shot below. You will see that the comments section has been disabled. Congratulations. There are many more reforms that must be made before the Internet is of any use. At the moment it harbours idiots and scammers. Oh I know it has its good points, but so did Pol Pot. Just ask his mother.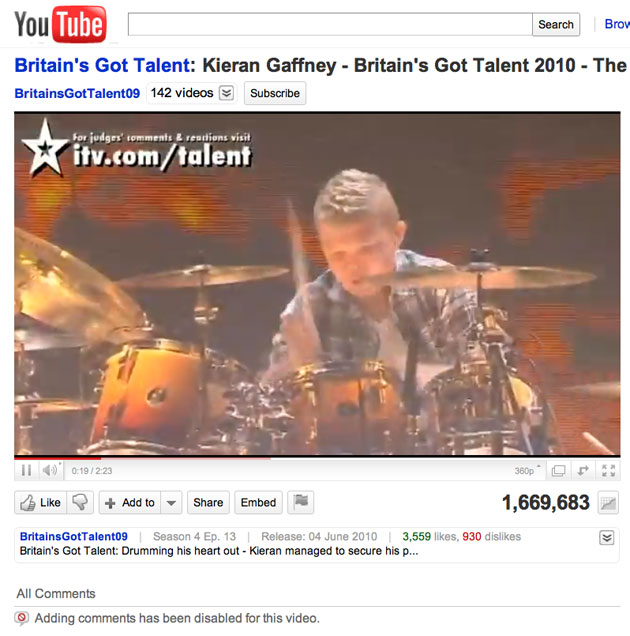 Below we see that the spammers have to get in on the act. I am pleased to see that You Tube has removed the spam, but pray tell, why did they leave a trace of it? Why not remove it and that other 'inappropriate' comment altogether so that we do not have to see them at all? Oh dear, that takes another brain cell. This spamming on popular sites reminds me of a quote from Jesus. We read in Matthew 18:20 Jesus saying, 'For where two or more are gathered in my name, there I am among them.' That's the doctrine of the spammers and scammers. Find what is popular, and let's go infest them with our filth. It seems that the likes of Google, YouTube, and others who ought to know better, could not give a damn.