While staying at the plush Langham Place Hotel in Hong Kong, I kept hearing fabulous music while walking through the foyer. At first, I thought that the hotel had invested in some new space-age audio-system that delivered crystal-clear sound to cocoon the guests from the frantic city outside. Everything about the hotel was impressive; down to the note paper. Langham Place took attention-to-detail to a whole new level. Therefore, hearing that melting music seemed to be part of the Langham touch, and I just presumed that it was a cool CD that a connoisseur had selected.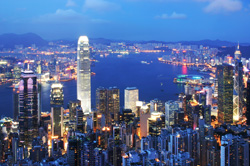 Hour by hour, I was agitating myself because I became too curious for comfort. I wanted to know who was singing, and the name of the CD, and the technology behind the audio system that could deliver pristine music that managed to convert a marble foyer into a velvet room. And then I heard an announcement which made me think, 'Hang on, this can't be a CD. Someone is singing, live.' To my delight, I discovered that the soothing music was coming from upstairs. Wow, the singer was Aja Wilson, the Volcalist-in-Residence who was enthralling guests with her amazing elixirs. I was way too busy to hang around, but I had no choice. I was hypnotised. So I sat, ordered a meal, a bottle of mineral water, and soon became transfixed by the quality of Aja's voice, her timing, her clarity, and the depth-of-feeling that Aja injected into each song.
I was basking in the moment, proud of Aja's talent, while thinking that I shall one day delve into my memories and smile at this special encounter while a guest at a splendid hotel whose definition of quality extended to delivering superb entertainment. Mind you, I think that 'entertainment' is the wrong word. Aja is more than entertaining. I think she is captivating, soothing, and uplifting. I knew how busy I was going to be the next day. I knew how chaotic Hong Kong was outside the four walls, but I was at peace as I swam in Aja's music bowl.
Some people enjoy meeting celebrities, whereas I prefer to meet geniuses. My spirit is elevated in the presence of pure talent. Their gold is my honey. Aja is a rare individual who is more than a celebrity. Aja is a star. The managers at Langham thought so; the hotel guests said so; and I felt it too.
Click this link to learn more about Aja Wilson at her Official Website.
Here are two tracks to tantalise you. The first is called 'What's up?'
[audio:https://logictivity.com/wp-content/uploads/2011/05/Whats_Up_Sung_by_Aja_Wilson.mp3|titles=Whats_Up_Sung_by_Aja_Wilson]
Below is a song called 'Sorry'.
[audio:https://logictivity.com/wp-content/uploads/2011/05/Sorry_Sung_by_Aja_Wilson.mp3|titles=Sorry_Sung_by_Aja_Wilson]