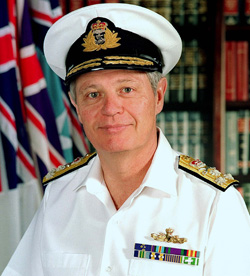 My guest this week will  be Admiral Chris Barrie AC — the former Chief of the Australian Defence Force who served during the Howard Government amidst the controversial Children Overboard Affair, will speak-up! In this rare public appearance, Admiral Barrie will reveal the amazing truth about what happened, by exposing the other side of a story that few people knew. If you live in Sydney, you are invited to the launch of a book that will make you doubt the headlines that mesmerised a nation. The author, Mr Ghassan Nakhoul, warns, 'You would not believe what really triggered Australia's controversial policy on Boat People.'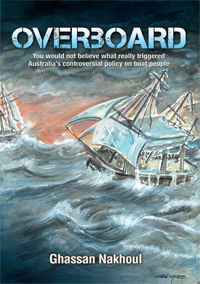 Each day, journalists dive into the middle of life's drama. Although they are not supposed to get caught-up in the stories, there comes a time when even the toughest of reporters succumb to an event so powerful, that it changes their life. This is what happened to Walkley-Award winning journalist Ghassan Nakhoul. For the first time in a 30-year career that included front-line war-zone reporting, he was overwhelmed. The incidents were so devastating, he felt compelled to write a book in order to share the plight of anguished souls: the asylum seekers and those who perished at sea. The book uncovers rorts in the refugee system, and it sheds light on government tactics designed to scare away the boat-people. Ultimately, the book reveals that the controversial 'Pacific Solution' might have been instigated not by politicians or government strategists, but by the person whom you would least suspect! The 10th anniversary of the Tampa crisis, the Pacific Solution, and the sinking of SIEV-X that killed 353 people, makes this book even more relevant & timely, as we ponder: What have we learned?
ABOUT THE AUTHOR
Ghassan Nakhoul is the first journalist from SBS Radio and the Arabic-speaking community in Australia to receive the prestigious Walkley Award. His career spans three decades. He has been with SBS Radio for twenty years and has contributed to Australian newspapers and magazines. Ghassan is also a lecturer at The University of Sydney.
DATE THURSDAY 15 SEPTEMBER 2011
VENUE HOLROYD CENTRE 17 MILLER STREET MERRYLANDS
TIME 6:00 PM REFRESHMENTS. 6:30 PM PRESENTATIONS
BOOK REVIEWED BY DR AL JABIRI
ENTRY NO CHARGE
PARKING FREE OFF NEWMAN STREET
ENQUIRIES 02 8569 0671 OR MARY at LOSEFRIENDS.COM
SALES THE BOOK WILL BE AVAILABLE FOR CASH PURCHASE ON THE NIGHT
HOSTED BY JONAR NADER, THE AUTHOR OF 'HOW TO LOSE FRIENDS & INFURIATE PEOPLE'
OTHER GUESTS INCLUDE MR SAM ALMALIKI.
POST EVENT
The book launch was a huge success. Approximately 200 people attended this event to hear the keynote speech by Admiral Chris Barrie AC who was later interviewed by SBS Radio. The interview can be heard at this link for Ghassan Nakhoul's website, where copies of the book 'Overboard' can also be purchased.