As someone who dines-out at least five times per week, there are certain types of restaurants I had never frequented, such as Vietnamese restaurants. I am not sure why they have existed outside my radar. I have never been curious about them. When pondering where to take my friends for a good meal, I wrack my brain in search of Japanese, Italian, Thai, Chinese, Indian, Lebanese… yet, never had I contemplated the merits of Vietnamese cooking.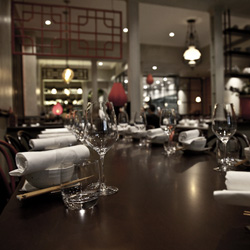 Recently at a business function, I met Pauline Nguyen who happens to be (amongst many things) the co-owner of Red Lantern restaurants. That did not mean much to me. I was just smitten by Pauline's spirit, including her 'presence' and her method of listening (not to mention her deep soul). I became fixated on a woman of apparent extremes. Pauline is the most gentle of people, who, at the same time, is the toughest of folk. She can listen as if her life depended on it, and speak as if your life were hanging in the balance. Her extremes also pluck at one's emotions. A simple encounter with Pauline could make you laugh tenderly, then within minutes, have tears welling up. For me, Pauline Nguyen's most admirable quality is that she lives her life on purpose. That intensity translates to her asking questions on purpose… no idle chatter. She listens on purpose… no wasted opportunity. She works on purpose… no loose intentions.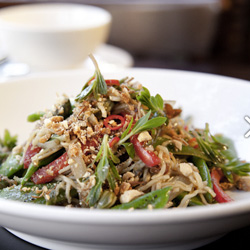 As friendships unfold, the desire to share a meal together becomes an important part of the relationship. And so came a generous invitation to Red Lantern on Riley. For the first time in my life, I was looking forward to dining at a Vietnamese restaurant. I arrived at 7:00 pm to find that the restaurant was full! Young and old chatting and toasting each other. Lovers in dimly-lit corners. Thinkers to the side. Mates laughing, as mates do so joyously… and at the far end of the restaurant, past the red lanterns and flickering candles, was the orchestra pit… a kitchen where the experts were playing their signature tunes, crafting meals as if each dish were going past a posh magazine's photographer. That's not far from the truth. As each meal arrived, stunningly presented, eager diners at Red Lantern on Riley pulled out their camera-phones and flashed away. I've seen people keen on being photographed with celebrities, but now I was witnessing people shuffling so they can be photographed with food!
Having not a shred of knowledge about Vietnamese cuisine, I went into my polite mode and told Pauline that I would leave the ordering to her. 'Whatever you suggest… I'm sure it will be fine.'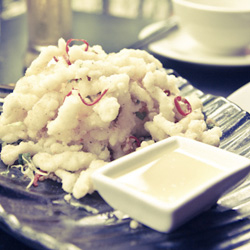 Out came the dishes, and pow! The flavours were commanding. To my delight, I was devouring food with flavour. Flavour! As a lover of food, I had resigned myself to lower my expectations when it comes to restaurants knowing how to infuse flavour. I know all food 'tastes' of something. Everything has some sort of taste (but not flavour) and texture, even if it is just an oily smudge on the palate. So, when dining out, I just eat what I can, being as difficult a customer as I can be; requesting more of this and less of that, and hold that ingredient and please add something else to the dish. And then I accept what's presented, and I compensate by counting the vitamins and turning a meal into a health injection. I think, 'Oh well, not the best meal in town, but at least it's clean, and hey, I'll get the nourishment to keep me in good health.' So my dear reader, most of my dining experiences are based on fighting with restaurants to give me fresh articles. Long gone are the days when I expect 'flavour' as part of the bargain.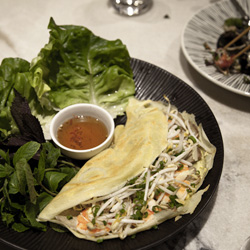 Anyway, back to Red Lantern on Riley. Pauline placed the order, and out came stunning dishes whose flavours were so sure of themselves, that I let them loose to run riot. Indeed, they conducted a carnival in my mouth. Every morsel was aromatic, pleasurable, and perfectly accented. It's as if each dish were a circus act. All the while, everything seemed light and well toned. Nothing was overpowering. Each dish offered surprises, depending on which end of the plate one started to carve it up. Lots of 'real' food — meaning food that was food, and vegetables that were vegetables. Ingredients that held their own. Nothing mushy and nothing drowned in cheap sauces.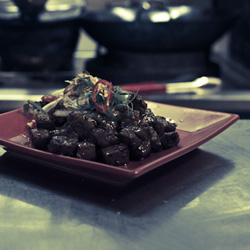 Why has it taken so long for me to discover Vietnamese cuisine? When it comes to food, I have been so sorely disappointed so many times, that I try to limit my experimentation. I am battered and have grown weary by sloppy chefs in ghastly kitchens with despicable service. Just ask any of my friends and they will tell you that my list of 'blocked' and 'banned' restaurants is longer than the list of approved restaurants. In a whole street, we would have tried every restaurant, and we would be lucky if one remains in favour. I am a tough cookie when it comes to restaurants. My tolerance for rubbish extends to one sitting. If it is unimpressive, I leave quietly. If it is deplorable (and that is the score that most seem to extract from me) then I depart with a heavy heart, wondering and agonising about why business people are so stupid. As a management consultant, I am aghast as to why and how business operators can rent premises to dish out garbage.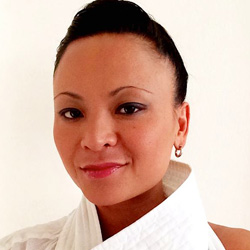 The stars were aligned for me when I met Pauline Nguyen. Thanks to her love of food, and to the expertise from the Executive Chef Mark Jensen (Pauline's partner), and the influence of Luke Nguyen (Pauline's brother) and some time-honoured recipes from Pauline's parents (who themselves ran restaurants for decades) I have Red Lantern on Riley to add to my favourite restaurants. The problem is going to be finding a table. Just today I called to make a booking for ten people for Sunday night, and no luck. I had left it too late. I shall have to book well in advance.
You can learn more about the Red Lantern empire at this link. You will also find books and videos to enjoy, including one written by Pauline called, 'Secrets of the Red Lantern'.
P.S. I know that the title might have used the word 'shone' instead of 'shined'. However, there is a nuance that I wanted to highlight.