I am energised by colour and aroma. Equally, I can be turned off by bad smells and odours — big time. I happened to be at an airport and I finally succumbed to entering a L'Occitane store. Though neat and tidy, I had previously not understood the purpose of the store. All its products looked olde-worldy and unappealing in their design (even though they carry great charm and beauty in their own right).
Anyway, I had a sniff of a few products and immediately sank into the L'Occitane world. I began try a few of their products until one day I came across this shampoo. I use it as a body wash. I do not need its repairing qualtlites. Nor do I have dry or damaged hair. I just use this product in the shower because the suds it produces can be summed up in one word: delicious. The combination of ingredients, which I am told include the five essential oils of angelica, lavender, geranium, patchouli, and ylang-ylang combine to such a perfect degree that I literally have a bottle nearby and I sniff it like an addict. I left one bottle open in my bedroom, hoping that the scent would fill the room. That did not work so well, and now I wish that they would make a room-scent of sorts.
I have been purchasing the L'Occitane shampoo for all my friends. It is certainly more expensive than the supermarket shampoos, but this, to me, is not soap. It is therapy! I have no idea if it is repairing my hair. And I do not know if it is good to scrub over one's entire body, but I love it. It scores ten out of ten.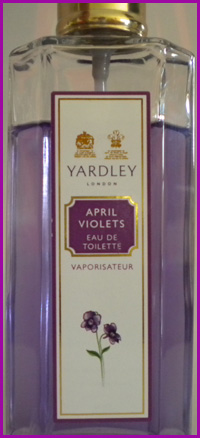 Speaking of smells, a friend of mine wears the Yardley April Violets Eue de toilette. Violets are so rare. In fact, this product is hard to find. When my friend managed to re-order hers from London, she purchased one for me, because I had always complemented her on her perfume. As you can see, my bottle is partially used. My friend said, 'You obviously do not like that perfume. You have not been using it as much as I thought you would.' To which I replied, 'This scent is so up-lifiting, and so precious, that I dare not use too much of it for fear of never being able to find this bottle again. So I use it sparingly. I treasure every drop.'
Indeed, violets are humbling. I squirt a bit on my tee-shirt while working into the early hours. It keeps me going. Scents are my natural drugs. I am forever sniffing and squirting. If you can understand this about me, you will also appreciate why I am the first to dive away from an oncoming cigarette!