I was at the chemist's and noticed this man-size box of Kleenex tissues. It reminded me of when I was a teenager. I recall seeing ads on TV for Salada crackers which came as large square items, with a perforation that enabled the consumer to snap the cracker from its original 'man size' to 'snack size' down to 'bite size'. I always wondered how any many could eat the uncut version. Are men endowed with larger noses and larger mouths? Why are men's watches larger than women's?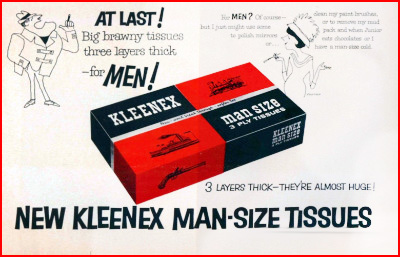 Is a man-size tissue more absorbent to cater for the additional boldly fluids that men excrete? Or are men so afraid of being called pansies that they cannot possibly admit to liking soft tissues. Softness would mean weakness? So are men's tissues not only larger and thicker, but also rougher? Interesting that men are the after-thought. We say, 'Ladies and gentlemen'. We put women first. I think most women like that. Yet when it comes to products, men come second, because we presume that men either do not shop, or do not care, or are otherwise barbaric and would happily blow their nose without tissues, or they need to be stroked and cajoled into trying products that might place them on the dangerous borderline of making them effeminate. Men! Such fickle creatures. So insecure. Is that why they need to be so macho? Are they trying to hide insecurities?


I was at a jeweller's recently and noticed the size of watches nowadays. My goodness. Any larger, and they would have to be worn around the neck. Either that, or men will need a sling just to prop up their arm from the excess weight on the wrist.