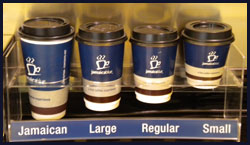 At an airport I noticed this new franchise called Jamaica Blue. It sells coffee in four sizes: Small; Regular; Large; and Jamaican. Once upon a time, the term 'extra large' would have been used. We all know about the rumours that Jamaican men are women-pleasers in bed. It's a sort of international reputation like the one about Italian men are romantic lovers. Who knows how these things start. One film-star can raise the bar for an entire nation.
At first glance, I thought that the coffee outlet was riding on the reputation of Jamaican men's willies, and calling their extra-large cups 'Jamaican'. But I later realised that it must be a pun – a play on words, considering the name of the store and the origin of the coffee that it sells. So I corrected myself and thought nothing of it, until I came across a sign that said, 'Size does matter'. Now what are we supposed to think. And to draw our attention to men, willies, and sex, we see a topless man in the photo.
I wonder how this style of promotion would have worked if a bar, selling beer from a country known for its buxom women, used topless women holding two jugs of beer, with the same type of suggestive text, saying that size does matter.
Is Jamaica Blue 'objectifying' the penis? This is a term that was used in relation to the Nando's double breast burger that showed a women with large breasts. The TV was banned because we were told that the ad 'objectified' the bosom.
Maybe it can be argued that the 'Jamaican' serving of coffee does not objectify the male member because Jamaican men are not that large. There have been studies of penis sizes around the world, and the outcomes show very little difference. I discovered this while researching the RTA Pinkie ad (see that story here).
Perhaps it's all a myth. Sure, the odd porno star might have something to sing about, but the average Jamaican is just an average guy. This means that the worst that Jamaica Blue is up for, is innuendo and false advertising.
Isn't it interesting that self-deprecation is humours. If they had made other observations about other races, they would be in deep trouble. For example, what would you make of the size-range featured below?