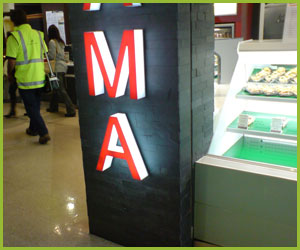 Walking through Auckland's newly refurbished airport, I spotted design elements that no experienced designer would have made. In 'How to Lose Friends and Infuriate People', I noted that the role of the manager is to pre-empt. This means to 'think ahead' about possible consequences, while considering the environment. Let us start with this store signage for a Japanese restaurant. It looks good enough. I took the photo in anticipation of the inevitable. A few weeks later, upon my return, I was able to take the second photo which I had foreseen in my mind. A designer cannot look at signage in isolation. Designers are taught to create things that are 'fit for purpose'. Obviously, this alone is not good enough. A designer must consider the environment. Where is the restaurant? What kind of traffic will it see? What are the people like? It's not as if the designers had never seen an airport, or that Auckland's airport is completely new. It's been operational long enough for the designers to know that travellers at airports use trollies, which are a common feature of all airports. We also know that airports are high-traffic areas, here crowds come and go in quick bursts. We also know that there is always a percentage of travellers who are in a rush. If we combine these elements together, we would be able to pre-empt that the signage for this Japanese restaurant would be damaged because it is protruding and just asking for trouble.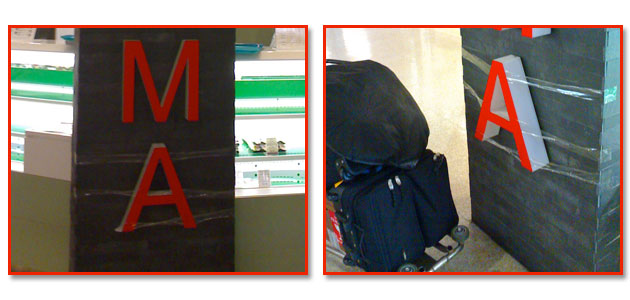 Also at Auckland Airport was Wishbone's sandwich bar that emerged as part of the new refurbishment. It looks neat and inviting. I was instantly attracted to the mirrored column. I could not understand why someone would use glass in a high-traffic environment. Sure enough, someone had already chipped the glass mirror. This explained why there was a stand next to the column. It's not an ideal place to position the stand. However, the store manager needed it as a protective barrier. The stand kept people away from the chipped glass, which was now even more of a risk for children who might cut themselves. Once again, the interior designers were disconnected. I took this photo and waited, wondering what I would see a few weeks later upon my return, knowing that something had to be done. I was expecting to see wood panelling.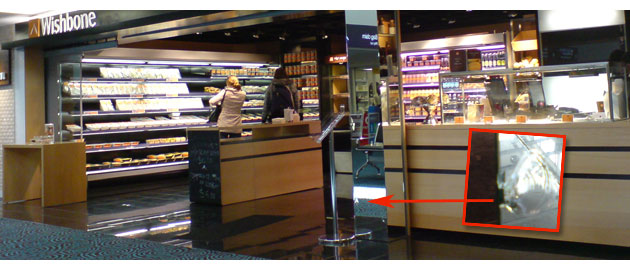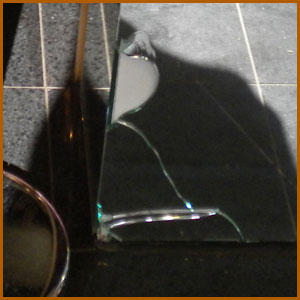 Not only did the designers ignore the surroundings, but now the managers had ignored the consequences. Left unattended, and with neither the environment nor the materials changing, the inevitable would and did happen. Here we see that several weeks later, the mirror went from being chipped to being broken. I am looking forward to my next trip to see what the next phase of this stupidity will be.