In preparation for my trip to India in September, I went online to fill-in my Visa Application Form. Despite following all the instructions, I felt lost. I can't believe that my questions were in-frequently asked. For my section alone, the FAQs on the website comprised 38 questions, totalling over 4000 words. They did not answer the most basic of questions, which makes me wonder why I am always the odd-one out. Why is it that the questions that spring to my mind, are not questions that most people ask? The website starts at this home page.
It leads me to say, 'I don't believe it!' How can I be the only one to have asked this question? Or, why is this question not deemed important enough to be answered? It just makes me wonder about my sanity, and my lack of comprehension about the world. Then I think to myself: If I can't work this out, me, a person who is a frequent traveller, a solver of riddles, a logical observer… what hope would a first-time user have? If I feel lost and abandoned, how must the novices feel, trying to make sense of all this paperwork?
For example, here are some of the questions that this website does not answer:
1) Over the years, when applying for Visas, I have been asked to submit two or more passport-size photos. The Indian Visa website mentions 'photos' in the plural, but later, the printed Application Form says to paste one 'photo'. So why does it mention photos in the plural, then ask for one, and not clarify this in the FAQ? Mind you, another surprise for first-time applicants is the fact that the passport photo that is required, is the larger size, with which most people are not familiar! So why not print this on the application form, and say, 'Paste the photo here, and make sure the photo is 2 x 2 inches in size!' There is a special section for 'Photo Specs' but it does not allude to the fact that theirs is a larger-than-normal photo. Which means that people reading the specifications are not aware of the relative size. They go to their local Post Office or photo centre and ask for photos. Unless the camera operator is astute enough to ask and to know what is required for India, the applicant returns home with normal/standard sized photos, which would be rejected.
2) Nowhere does the website or the Application Form instruct the applicant to send one's passport with the Application Form. The FAQ page does not even hint at it. How is a novice supposed to know that the passport must be posted with the Application Form? Most people have been warned never to let the passport out of their hand, so how are they to assume that it is the done thing to post the passport in the mail, even if via registered post.
3) The main page lists a series of steps. One of them refers to a 'checklist'. Even after completing and printing the Application Form, the checklist does not materialise. So where is the checklist? I don't know. Step One says, 'Download and Print the checklist.' Sadly, there is no hyperlink, and none could be found.
4) The site speaks of fees, and even offers a fee-calculator. Despite this, no clue is given about how a fee is to be paid. Neither a payment form nor a link is offered, so how is one to pay? I don't know.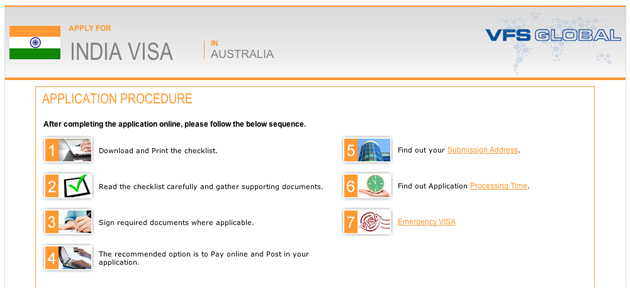 Oh well, maybe it's all due to the fact that I use Apple's Safari browser. Could it be that Apple is still seen as the inferior, less popular choice when it comes to computer technology? Are Apple users so few in number that it simply is not economical to cater for their technology? The other day I purchased a gadget that required it to be connected to the net via a computer. On the box it said that it was Mac compatible. That company's website contradicted this and said that it can only connect via a PC. Just as well I kept my old IBM ThinkPad.
Anyway, I'm looking forward to seeing my Indian friends when I visit Hyderabad in September. The great part is that they all my Indian mates speak English. How lucky am I?
UPDATE
Credit where it's due. I must say that after writing to the Visa people, they have been helpful, attentive, and polite. This is a huge improvement on my last interaction with them 12 months ago. It's wonderful to see such organisations taking a keen interest, and following up to assist the public. The team at India Passport & Visa Services Centre (VFS Services Australia) has been helpful and friendly. I now have what I need, and it's all systems go to Hyderabad!